Amundi ETF Trend Report - 1st quarter 2019
Thursday 18 April 2019
Expertise, Video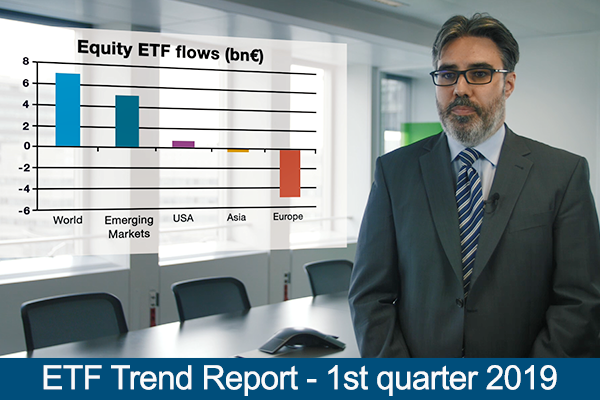 Despite a slight slowdown in March, net new assets invested in European ETFs during the first quarter were largely positive. They reached 25 billion euros, mainly driven by fixed income products, which account for more than two thirds of these new flows.
On the equity side, global exposures are in the lead, with 7 billion euros of inflows, followed by emerging markets. At the other end of the spectrum we still find Europe, which has suffered redemptions amounting to nearly 5 billion euros over the quarter.
At country level, there was a switch from Germany, victim of nearly one billion euros of redemptions, towards England, which benefited from 1.4 billion of subscriptions.
If we look at sector allocation the bias is definitely defensive: non-cyclical goods were the most favored, whereas financials are bottoming the ranking. The same goes for smart beta: there are positive flows on defensive factors (high dividend and min vol) and negative flows on momentum and small caps.
In addition, the interest for SRI has not dried up and we observed more than 2 billion euros of flows since the beginning of the year for sustainable ETFs.
In the fixed income universe, which accounts for two thirds of the inflows, the split is roughly even between government debt (+8.5 billion euros) and corporate debt (+7.5 billion).
On the government side, emerging countries continue to be favored by investors with 5 billion of net new assets, followed by US treasuries. On the corporate side, this time the Eurozone is doing well, with 4 billion euros in investment grade credit and 1 billion in high yield bonds.
No real trend was observed for commodities, which posted a very slightly negative balance for the quarter.