Amundi expands low-cost Prime ETF range
Tuesday 27 October 2020
Press Release
London, 21th October 2020 – Amundi announces the addition of an additional ETF to the Amundi Prime ETF range:
Amundi Prime Euro Gov Bonds 0-1 Y UCITS ETF : Listed on Deutsche Börse Xetra, this fund provides investors with low-cost exposure to Euro denominated securities issued by governments from the Eurozone with a 1-12 months maturity.
The new ETF offers a competitive1 liquidity management solution with a low risk profile relevant in the current market environment. This ETF adds up to the existing Amundi Prime ETF range supplying investors with the essential building blocks of a diversified portfolio with ultra-low ongoing fees starting from 0.05%2.
Initially launched in March 2019, the Prime range now comprises six equity and seven fixed income ETFs covering the core geographical exposures. The whole range uses physical replication and tracks indices developed by index provider Solactive.
Our Prime range of ETFs has been a strong success following the launch last year, gathering over €2bn1 over less than 18 months. This latest addition to the product range provides investors with an important core exposure with industry-leading fees.
Fannie Wurtz, Head of Amundi ETF, Indexing and Smart Beta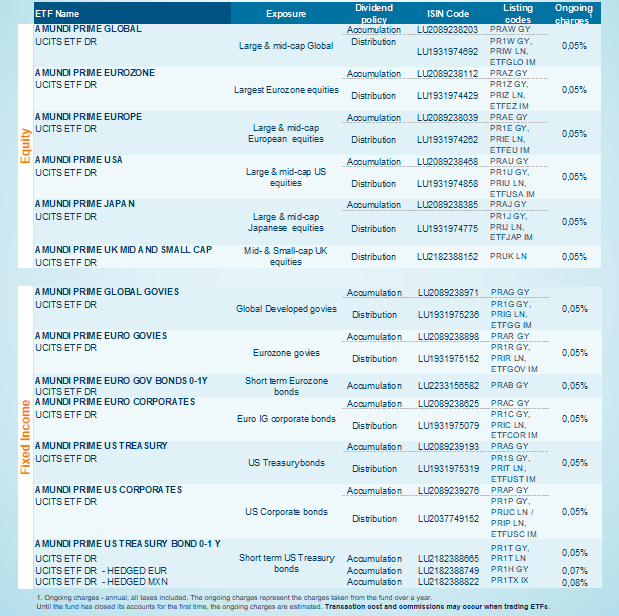 1 Source : Amundi, as of October 2020
2 Ongoing charges - annual, all taxes included. The ongoing charges represent the charges taken from the fund over a year. Until the fund has closed its accounts for the first time, the ongoing charges are estimated. Transaction cost and commissions may occur when trading ETFs
---
Document