ESG ETF assets surged in Q1 says TrackInsight's ESG Observatory
ESG ETF assets surged in Q1 says TrackInsight's ESG Observatory
Friday 04 June 2021
Press Release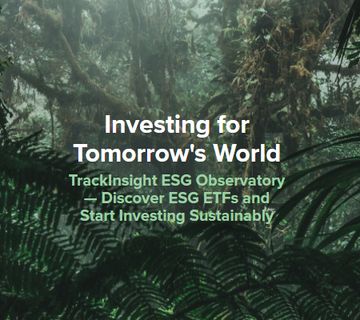 TrackInsight's ESG Observatory announced a rapid rise in ESG exchange-traded-fund (ETFs) assets in the first quarter of 2021. Additionally the news confirms growth in the number of new ESG ETFs launched in Q1. The ESG Observatory is sponsored and supported by Amundi.
The ESG Observatory data highlights:
• European ESG ETF assets now total USD 161 billion, equal to 10% of all European ETF assets
• Global ESG ETF assets jumped by 28% in Q1 2021
• 316 ETFs now cover the UN Sustainable Development Goals (SDGs)

TrackInsight is the world's first global exchange-traded-funds platform. It combines knowledge of ETFs, and sustainable investing via the ESG Observatory, an online hub providing transparency into the fast growing market for ESG ETFs using proprietary research, data and screening tools. The ESG Observatory is guided on mapping ETFs against the UN SDGs by the SDG Investors Partnership of UNCTAD (UN Conference on Trade and Development).
The surge of interest in responsible investing is undeniable and the trend observed last year is continuing in 2021. At Amundi, we believe that ETFs are contributing to democratising ESG investing. However, investors' sustainability objectives differ and there is no 'one-size-fits-all' approach. Investors now benefit from an increasing choice of ESG ETF solutions creating opportunities to generate measurable impact towards the UN SDGs, for example through Paris-aligned climate ETFs. Our role is precisely to guide them and help them select the strategy that best meets their sustainability goals and constraints.
Fannie Wurtz, Head of ETF, Indexing & Smart Beta