Going carbon neutral - AssetTV panel discussion
Going carbon neutral - AssetTV panel discussion
Wednesday 02 June 2021
Expertise, Interview
Climate, carbon neutrality, index solutions and EU sustainability regulations were on the agenda when Frédéric Hoogveld, Head of Product Development and Specialists at Amundi ETF, Index & Smart Beta, was joined by UK-based heads of sustainability at RPMI Railpen and BT Pension Scheme Management and the head of ESG at the Pension Protection Fund (PPF) on AssetTV in the UK in May. The panel was sponsored by Amundi ETF, Indexing & Smart Beta.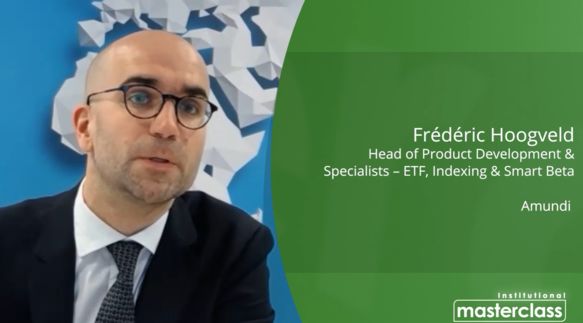 The panellists first addressed the different ways to define carbon neutrality, and the reasons for asset owners to set net zero goals. They also explored the timeline for achieving net zero carbon emissions, and furthermore, how this differs across asset owner types in accordance with what they need from their portfolios. For example a defined benefit (DB) pension scheme closing to new members, has very different investment objectives and constraints compared with a DB scheme taking on new members and paying out pension benefits possibly even into the next century.
New index solutions
The conversation then moved to the asset managers' role and index-managed solutions in addressing the climate crisis. Frédéric Hoogveld noted that index providers' quality of data and coverage has increased with regard to the non-traditional financial metrics considered in the construction of new index-based solutions which are designed to meet low carbon investment objectives. "We are going towards a better understanding of the entire carbon footprint of a company. But this is still a work in progress."
He also highlighted that the approach to climate indices is increasingly becoming based on companies' forward looking commitments rather than relying on purely historical emissions data. Additionally, it is asset owner demand that is driving this index innovation, Frédéric confirmed.
"What we see more and more from clients is a need for tilting the index away from polluting companies, towards companies that have taken some commitments. We now have the ability to overweight companies that have taken this science based commitment to align their business models with the Paris Agreement."
Engaging for good
Sharing an example of an index co-developed by Amundi for Caisse des Dépôts in France, Frédéric explained that it was designed to overweight companies with Science Based Targets initiative (SBTi) commitments and divest companies that had no SBTi commitments, enabling the index to be used as an engagement tool.
"The ability to link an index design with an engagement strategy is increasingly interesting for these new climate index solutions." This highlights the role that engagement plays in passive investing as well as in active management.
Such index innovation is creating a more complex world, which is allowing for a wider range of solutions to align with asset owners' requirements. Hoogveld summarised, "Where previously we were reducing carbon footprint, we are now integrating dynamic strategy into index design."
Positive on regulation
The European Union's regulatory initiatives and their impact prompted significant discussion. Following the implementation of regulations, Amundi is seeing increased demand for sustainable products which is driving capital flows by enabling product providers and asset owners to "talk the same language" with regard to sustainable investments.
The panel addressed the implementation of the Sustainable Financial Disclosure Regulations (SFDR) where Frédéric commented, "rising numbers of asset owners want [SFDR] Article 8 and Article 9 products and more are seeking to benchmark their portfolios against the Climate Transition Benchmark, and the Paris-aligned Benchmark." He concluded that this significant interest in transitioning to sustainable investment products is very positive for all.