ETF Investors positive for 2022
Monday 07 February 2022
Expertise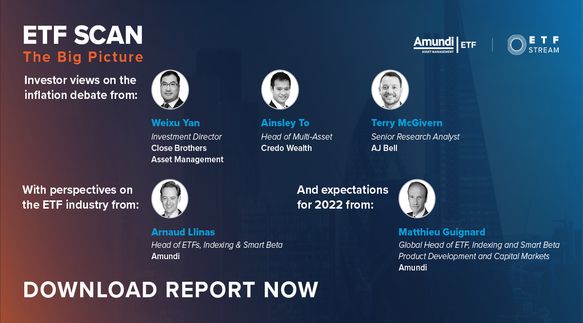 Amundi and ETF Stream have partnered once again to explore ETF investors' views of the market in 2021 and their expectations for 2022 in the latest ETF Scan survey.

From across Europe 105 investors responded to important questions addressing inflation, volatility and potential interest rate rises as well as providing their views on ESG and climate investing, thematics and allocating to emerging market ETFs.
The findings have been published in two parts with the first report, in December 2021 focusing on inflation, ESG and climate. In this report, the majority (55%) of respondents feel positive or very positive about 2022.
This is despite our forecast that 2022 will not see a return to normality and that investors may face headwinds, with lower expected returns on equities than 2021. In terms of what the year will bring, 76% anticipate that this year will see interest rate rises and only 4% expect to see rates being cut.
Plans to increase exposure to emerging markets were indicated by 47% confirming they will increase their allocations to EM, while 25% said maybe (and 28% said they would not), while their approach to country-specific EM allocations was also addressed.
Thematic ETFs stood out in 2021 for having performed best for respondents. Amongst thematic trends, 68% foresee a greater focus on climate investing following COP26 and have identified it as the most important megatrend for the coming year.
The report includes an interview with Arnaud Llinas newly appointed as Head of ETF, Indexing & Smart Beta, and it closes with three investors explaining their contrasting expectations for 2022.