Amundi ETF, Indexing and Smart Beta announces its ambition
Amundi ETF, Indexing and Smart Beta announces its ambition
Wednesday 13 March 2019
Product
Amundi, Europe's largest fund manager1, today announces its growth strategy to double the assets under management of its ETF, Indexing and Smart Beta business line by 2023. Amundi also announces the launch of an entirely new ultra-low cost2 ETF range: Amundi Prime.
We have been experiencing strong and steady growth over the past years across all areas of expertise and client segments. We will look to meet our objectives by developing new markets while continuing to increase our European presence, where we believe there is still significant room for growth.

Fannie Wurtz, Head of Amundi ETF, Indexing and Smart Beta
It is Amundi's ambition to double its ETF, Indexing and Smart Beta assets under management to €200 billion by 2023. To achieve this target, the business line will focus on three growth drivers: increasing client coverage in Europe and Asia; enhancing product offering and investment solutions; and boosting its retail market presence.
In line with this strategic focus, Amundi unveils the launch of Amundi Prime ETF range at a highly competitive flat rate of 0.05% across all funds3.
The initial launch of nine Amundi Prime ETFs will offer investors exposure to the key building blocks of a diversified portfolio, accessing both fixed income and equity market indices, across a range of geographic regions: Global, Europe, USA, and Japan.
The ETFs will track indices designed and calculated by Solactive4, a well-established and cost-efficient index provider. Additionally, all Amundi Prime ETFs are UCITS-compliant and physically replicated.
Fannie Wurtz adds:
Our product development strategy has always been based on our constant dialogue with clients who are increasingly looking to include ETFs in their investment solutions. Amundi Prime ETF range is built on our experience and outstanding bargaining power as Europe's largest asset manager. We are confident that this range will meet investors' needs for cost-efficiency, simplicity and transparency.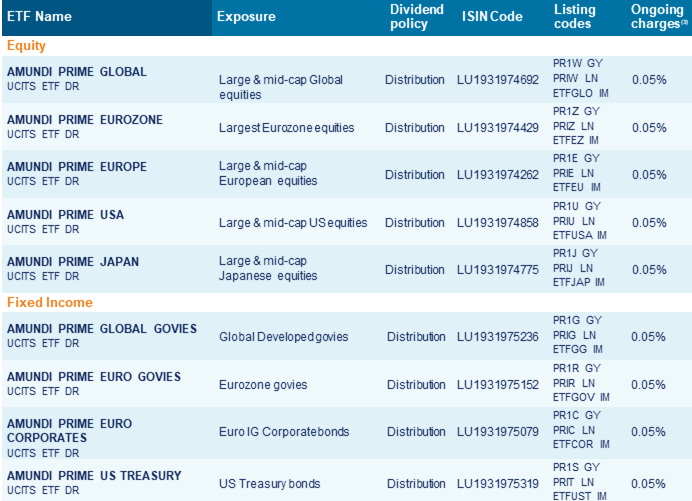 1. Source IPE "Top 400 asset managers" published in June 2018 and based on AUM as of end December 2017
2. Source Amundi: Comparison based on the ongoing charges (OGC) of equivalent "core" ETF ranges available in Europe. Data from Bloomberg as of 31/01/2019. Important: some individual Funds may not be cheaper than their European peers or may not have an equivalent to compare with and vice versa. Analysis excluding third party commissions/costs incurred directly by investors when trading.
3. Ongoing charges - annual, all taxes included. The ongoing charges represent the charges taken from the fund over a year. Until the fund has closed its accounts for the first time, the ongoing charges are estimated. Transaction cost and commissions may occur when trading ETFs.
4.For further information on the index provider, please consult www.solactive.com
Disclaimer Solactive
The financial instrument is not sponsored, promoted, sold or supported in any other manner by Solactive AG nor does Solactive AG offer any express or implicit guarantee or assurance either with regard to the results of using the Index and/or Index trade mark or the Index Price at any time or in any other respect. The Index is calculated and published by Solactive AG. Solactive AG uses its best efforts to ensure that the Index is calculated correctly. Irrespective of its obligations towards the Issuer, Solactive AG has no obligation to point out errors in the Index to third parties including but not limited to investors and/or financial intermediaries of the financial instrument. Neither publication of the Index by Solactive AG nor the licensing of the Index or Index trade mark for the purpose of use in connection with the financial instrument constitutes a recommendation by Solactive AG to invest capital in said financial instrument nor does it in any way represent an assurance or opinion of Solactive AG with regard to any investment in this financial instrument.